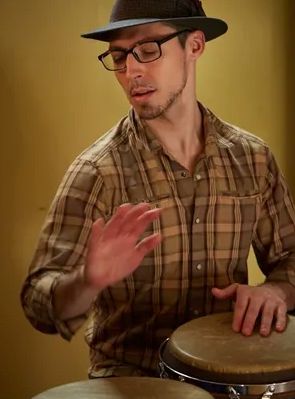 Andrew Gillespie 
Gillespie is an accomplished percussionist across three distinct styles- Cuban, Brazilian, and New Orleans. Andrew grew up in Minneapolis. In 1998 he spent a year in Brazil as a high school foreign exchange student. Already an excellent drummer, Gillespie soaked up the country's eclectic sounds and varied culture. Back in the U.S. he earned a degree in music and Latin American studies from the University of Miami and the University of Minnesota. Gillespie would go on to travel and study in Puerto Rico and Cuba.
Eventually Gillespie made his way to New York where he was based for seven years. He also developed an affinity for New Orleans style street music. He has played with ensembles such as Jack Brass Band and Mama Digdown's Brass Band including many trips to New Orleans as well as multiple tours to Europe. Gillespie maintains and active world music career, playing timbales and conga with various salsa groups, various percussion with Brazilian ensembles, snare with New Orleans groups, and drum set with neo-soul artists such as Akie Bermiss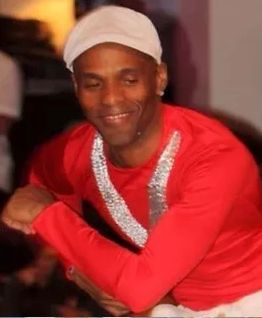 Yeniel "Chini" Perez
Perez is both a dancer and percussionist and has performed professionally for the last twenty years. In his work he explores the intersection of drum and dance, which is crucial to understanding Latin music. Born in Cuba, Perez performed with the major group Afrocuban de Matanzas including on the Grammy winning recording with saxophonist Steve Coleman. As a performer Perez traveled the world appearing in Italy, Germany, Spain, Sweden, France, Holland, Mexico, Puerto Rico, and the United States. He is expert across of host of Afrocuban styles such as yambu, guaguanco, and columbia. Now living in Minnesota Chini received a McKnight Fellowship and currently teaches Cuban style salsa and Afrocuban dance at Chini Studio in Minneapolis. 
He is also a dedicated teacher, and has taught courses at universities in Mexico, Puerto Rico and the United States. The particular styles of dance he teaches include Cuban Style Salsa, Mambo, Son Montuno, Pilon, Cha Cha, Contemporary dance, and Afrocuban styles such as Rumba, Yambu, Guaguanco, and Columbia. Currently, Perez is a member of the Street to Stage performance team, and has a dance school called Chini Studio in Minneapolis in Uptown, where he offers classes in Cuban Style Salsa and Afrocuban Dance.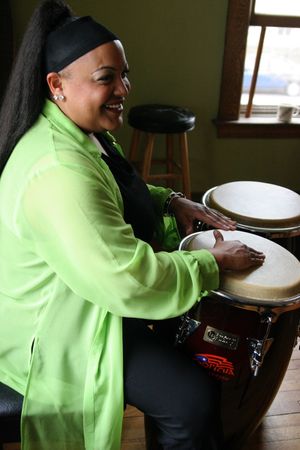 Viviana Pintado
Vocalist, pianist, and percussionist Viviana Pintado was born and raised in Havana, Cuba. Her father was a professional musician and Pintado studied percussion and piano at Cuba's top music schools. Later as a full-time professional, Viviana was invited to join the band of salsa super star, Albita Rodriguez. With Albita Pintado performed throughout the Americas, Europe, and parts of Asia. The group recorded several CDs including three that were nominated for Latin Grammys. In her career Pintado has recorded with Celia Cruz, Gloria Estesfan, and many other major Latin music artists. 
After leaving Cuba in the early 1990's Viviana eventually relocated to Miami, where she was named "Best Pianist" by The Miami Herald. In 2004 Viviana moved to Minnesota. Arriving in the Twin Cities she quickly established herself a powerful force on the music scene with her warm vocals and her amazing piano skills. As a COMPAS teaching artist she has worked with students at dozens of schools and libraries.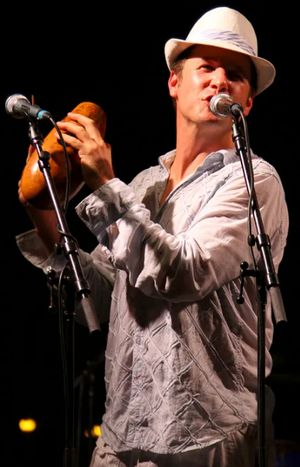 Doug Little
Little has released nine CDs as a leader or co-leader and appeared on concert tours throughout the United States, Europe, and Asia. As a performer he has appeared with Tiempo Libre, Chuchito Valdés, Pepito Gomez, Joe Lovano, Nachito Herrera, and many others. Little began his career as a jazz saxophonist. In 2002 Little received the first of several research grants to study music in Cuba. Over the next decade he spent nearly a year in Cuba apprenticing with music masters including percussionist Mauricio Upmann (Habana D'Primera), flautist Joaquin Oliveros (Chucho Valdés), and Cuba's greatest musicologist, Dr. Olavo Alén.  
In 2006 Little founded Charanga Tropical, one of the few salsa ensembles in the United States that feature the classic charanga instrumentation of three violins, flute, and full Latin rhythm section. That band would go on to record and perform in Cuba. For his work as a musician and composer Doug Little has received support from the American Composers Forum, the Jerome Foundation, the Minnesota State ArtsBoard, and the McKnight Foundation. Active in education, Little has led master classes on Latin music at high schools, colleges, and conservatories. He is founder and director of the Twin Cities Jazz Workshop.